The Area
The Guy Fawkes River National Park is a beautiful and rugged series of valleys encompassing more than 107,000 hectares (almost 300,000 acres) near Ebor in the New England area of New South Wales.
Major Edward Parke named the Guy Fawkes River after camping nearby on Guy Fawkes Day, November 5, 1845. Gold was discovered in the late 1800s at Ballards Flat and Dalmorton, with the latter once supporting a town of 3,000 people during a short gold rush. A couple of building ruins remain today and old stockmen huts and yards are still present throughout the valleys.
The Horses
Long before The Guy Fawkes was a National Park it was inhabited by local graziers and from the early 1800's to the 1940's, horses were specifically bred for the remount trade. The Colony's first exports were "War Horses" and in 1834 the first horses left Australia consigned the British Army in India. The Army's criteria was that:
'the horse be entire, sound in wind and limb, over 3 years and under 7 years, over 14hh and under 15hh, half thoroughbred and able to carry 17 stone.'
A good horse fitting the above description would fetch the breeder around 10 pounds – the equivalent of a year's wages for most farmers. Pastoralists intentionally turned out well bred stallions and mares in the wilderness areas, and a mixture of bloodlines were introduced to strengthen certain characteristics. Clydesdales were being used in the local timber industry and their genetics are clearly evident – bay horses with white blazes and feathers on their feet show their ancestry. A mob of creamy mares, descendants of Saladin – a sire of historical significance for the Australian Stock Horse Society – were introduced and today the buckskins and palominos are still present, representative of these bloodlines.
Over 320,000 horses left Australian shores with over 120,000 from NSW. It is the direct link with the horses drafted for use by the Australian Light Horse Brigade of World War I, which has secured the unique heritage value of the Guy Fawkes horses. The ancestors of the horses within the park carried the Australian Light Horse Brigade to victory in the great cavalry charge at Beersheba in 1917.
The National Park
In 1972 the main section of the Park was gazetted, and the National Parks & Wildlife Service took over the land. The graziers were forced to move from the area and they took most of their cattle and horses with them, but due to the expanse and terrain of the area, the absence of fences, etc some horses remained. These horses were bred to be strong, athletic and to endure the harshness of the Australian bush, and with no local management, it is no surprise that free ranging horses became wild, which resulted in large increases in wild horse populations to the present day.
---
---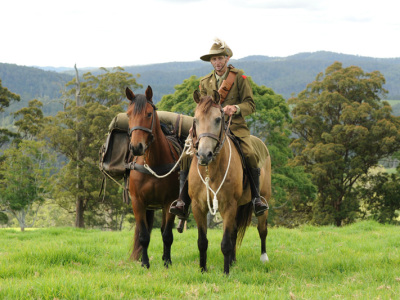 ---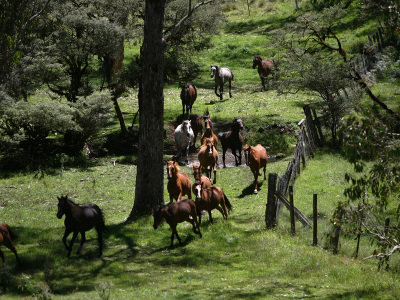 ---