After the tragic passing of my beautiful mare and friend of 12 years it didn't seem possible to find a horse to re-open my wounded heart. But when we went to the GFHHA holding block, I fell in love once more. With not one but three horses. Hubby was captivated by a creamy palomino stallion and they seemed to bond at first sight. I was entranced by a buckskin mare and then, when we went 'out back' with the lovely Erica and Graeme I found the little bay with a star who looked so much like my dear departed and who now delights in standing quietly under the stars and just smooching with me.
They are all completely different personalities but they are kind, loyal, friendly, willing and endlessly fascinating. I had only ever read of 'floating paces' before and now I see them in action. They are fast, sure-footed, brave and curious and are taking our horsemanship to previously undreamed of dimensions. Everyone should have one!
Sophie Love, Tom's Creek NSW
We purchased Heritage Clover 4 years ago from Digby and Helen Foster. We attended a Guy Fawkes Open Day and spotted Clover and had to have her !! Clover very quickly settled into "town" life as we live close to Grafton on a small property, very unlike the beautiful green hills of Ebor !! Clover and I have represented the Guy Fawkes Association at several show in Grafton and Coffs Harbour which we both thoroughly enjoyed and came home with some blue, red and yellow ribbons for the ridden and led classes. Clover has also attended a few Pony Club rally days in Grafton. She is quiet the friendly social butterfly and likes to meet other horses.
Clover has such a quiet steady temperament and loves nothing better than to be allowed into the house yard, where the short, sweet grass is !! for a session on the verandah with us for morning tea !! Truly. She comes under the verandah and peers in, checking to see where we are and when we are coming out with the GOODIES. So here is a photo we have titled "Morning Tea with our Clover
Kate, Rob and Darcy and Heritage Clover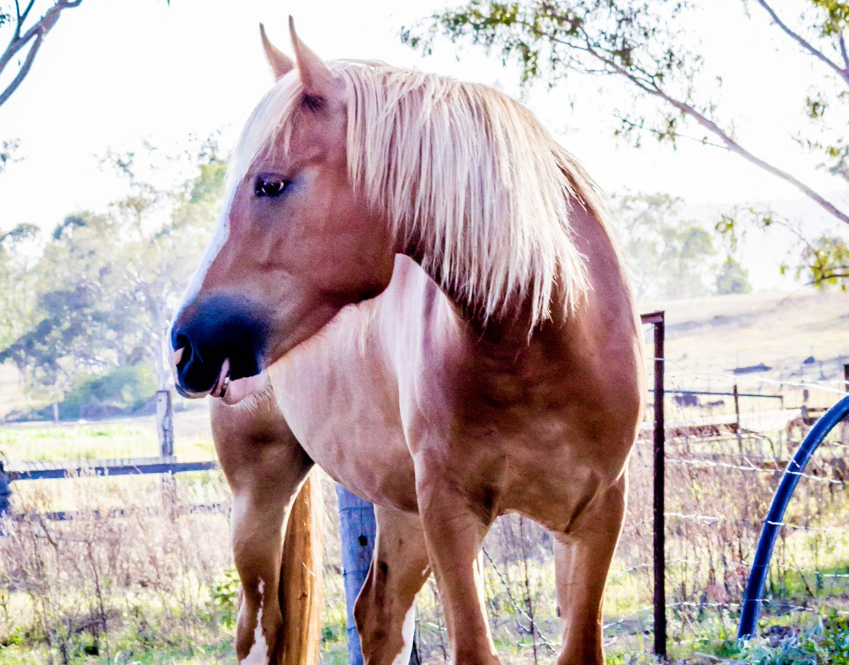 I thought you might be interested, My sister (Michelle Brooke) purchased a Guy Fawkes Brumby 2 years ago in a private sale, he was just over 12months old and basically unhandled. This is him today, He's grown into an amazingly stunning looking boy, sweet, gentle and incredibly kind. He has just come back from the breakers and is a pleasure for my sister to ride. His registered name is Mr Sunshine, we call him Sunny.
Kylie Salmon